Gids voor In vitro planten
Gids voor In vitro planten
Introductie
In vitro planten worden in een laboratorium onder steriele omstandigheden gekweekt. Het is vooral nuttig voor het produceren van een groot aantal planten die soms moeilijk te kweken zijn. Tissue culture of in vitro is gebaseerd op het feit dat veel plantencellen het vermogen hebben om een ​​hele plant te regenereren als ze in een geschikte media en omgeving worden genesteld.
In vitro aquariumplanten zijn al heel lang op de markt, en hun belangrijkste voordelen voor de consument zijn dat ze vrij zijn van algen, slakken en pesticiden en in feite een geweldige prijs-kwaliteitverhouding bieden. In vitro potjes zitten boordevol kleine plantjes, elk in staat om uit te groeien tot een volledige plant, dus je krijgt veel planten voor een lage prijs, het is bijna alsof je een pakje zaden koopt.
Voor de beginners die niet bekend zijn met de namen van waterplanten kan het behoorlijk moeilijk zijn om te weten hoe de volgroeide plant eruit zal zien. Veel rode planten kunnen groen zijn als ze in in vitro worden gekweekt, voor sommige soorten zal hun bladvorm ook anders zijn als ze volgroeid zijn.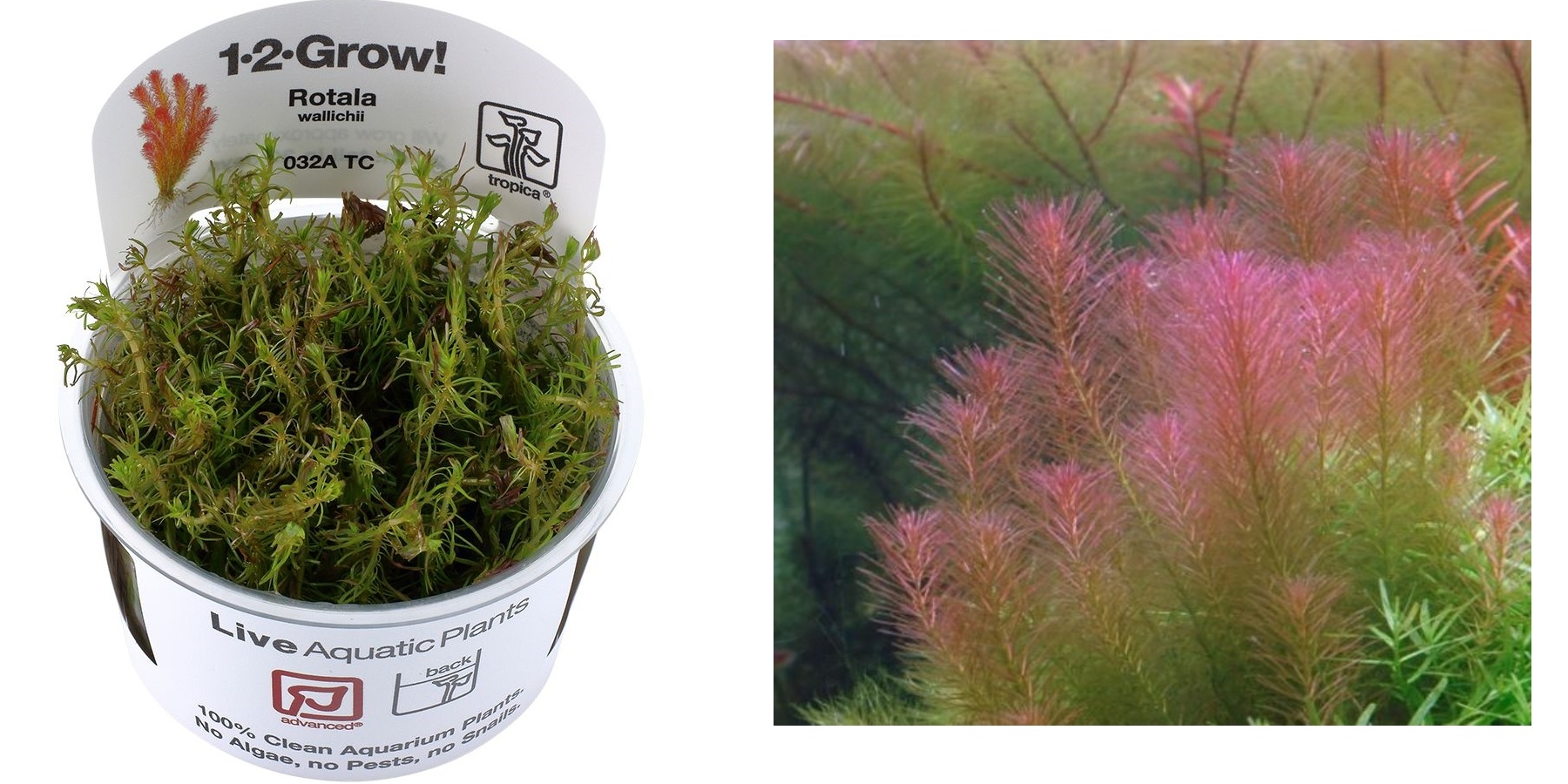 Dit potje Rotala Wallichii zal uitgroeien tot een mooie roodachtige stengelplant.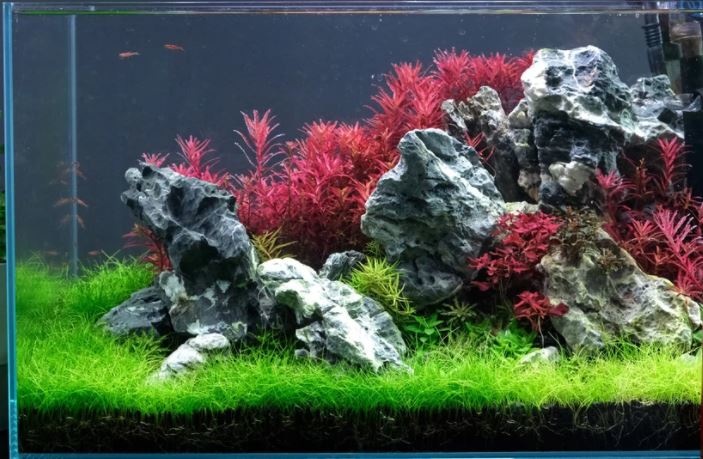 Enkele in vitro potjes dwerghaargras/Eleocharis acicularis 'Mini' was voldoende om deze aquascape in 8 weken volledig te bedekken. De plantjes groeien en verspreiden zich snel onder de juiste groeiomstandigheden.
Omdat deze in vitro plantjes zich reeds in de submerse onderwater vorm bevinden kunnen ze onmiddellijk beginnen te groeien, hoeft u geen afstervende bladeren van bovenwater gekweekte planten te verwijderen.
Voordelen:
> Veel planten per potje, dus erg zuinig
> Vrij van ongedierte, algen, pesticiden en ziektes
> Soortenprofiel is meestal meer gestandaardiseerd
> Gemakkelijker te vervoeren
> zeer vruchtbaar
> draagt bij aan natuurbehoud omdat wildpluk hiermee voorkomen wordt
> perfect voor garnalen
> ze hebben minder moeite zich aan de onderwatersituatie aan te passen dan planten die volgens de traditionele manier boven water gekweekt worden.
Nadelen:
> Nieuwere aquarianen vinden het misschien moeilijk om de juiste hoeveelheid in te schatten
> Het lijkt alsof je weinig plantjes krijgt, niets is minder waar
> het latere uitzicht van de plant is moeilijker te bepalen
Voor iedereen die zich zorgen maken over ongedierte, slakken, algen of pesticiden en/of  moeite hebben met het vinden van planten met een hoge kwaliteit, kan in vitro een goede keuze zijn.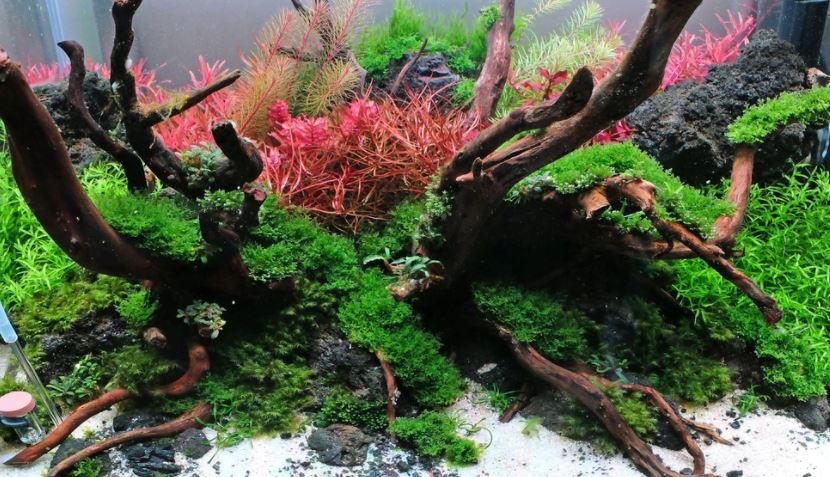 In vitro planten acclimatiseren?
Er zijn tal van slechte voorbeelden van hoe deze aquariumplanten worden behandeld op YouTube, aangezien aquarianen die dergelijke video's maken de hele installatie in korte tijd willen doen. In vitro in het algemeen (vooral voor exotische of meer kieskeurige soorten) doet het het beste in een ingedraaid aquarium, met een substraat en filter dat tijd heeft gehad om te rijpen. Als ze van dag 1 vers in een nieuwe opstelling worden geplant heb je veel meer kans op verslijming van deze aquariumplanten.
Praktisch, planten in  3 stappen?
Reinigen: Haal de plant voorzichtig uit het potje en spoel het groeimedium af onder de kraan.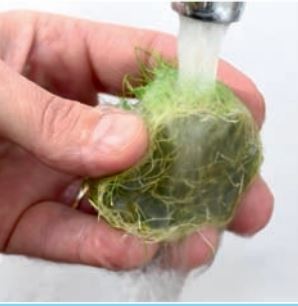 Verdeel de plant in meerdere stukjes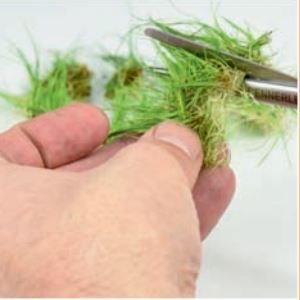 Plant de stukjes met een plantenpincet in de aquariumbodem